In February I published a review of Amazon Fire TV Stick 4K Max from the point of view of regular usage, promising a second part aimed at digital signage usage of the stick. Little bit later than originally planned, I looked closely at the combination of the stick and Slideshow Digital Signage app.
(For Amazon Fire TV Stick 4K Max specifications and unpacking, check out the first part of the review.)
Installation of Slideshow
Slideshow can be installed on the Fire TV Stick in three ways:
The easier (and preferred) method is through Appstore. I suggest using Downloader app only if you want the upgrade immediately to the newest version of Slideshow (as the approval process in Appstore might sometimes take a week) or if you are installing a
branded version
of Slideshow.
After starting Slideshow on Fire TV Stick for the first time, the app will ask you for permission to access the media and files on your device. Without granting this permission, Slideshow can't work, as it needs access to the files it should be displaying.
After Slideshow app loads, you can start adding files. As there is no free USB port left on the stick I suggest uploading the files from the web browser on your computer through Slideshow's web interface, you can find its address on the screen after startup.
If you would like to open the on-screen menu, you can do so by pressing the menu button on Fire TV remote control. Using option "Add file from storage" from the on-screen menu unfortunately doesn't work properly on Amazon devices, as there is no way to navigate in the following system dialog (reported to Amazon without reply, sadly).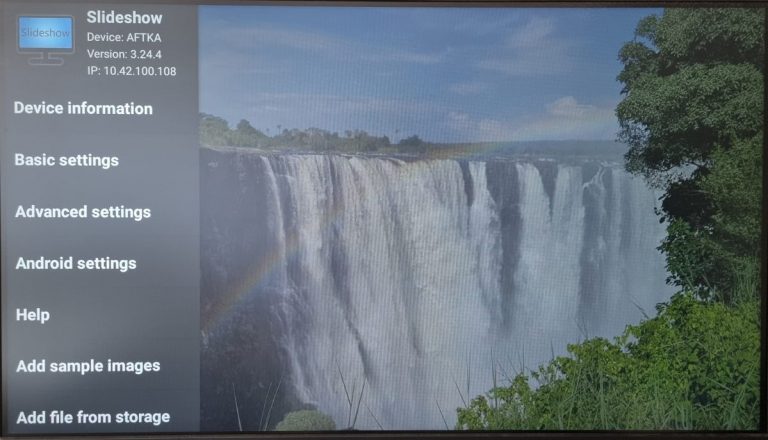 Video decoding is without any problems, even combination of 4K videos and video preloading (for minimal lag between videos) works fine. I tested various high-bitrate H.264 and H.265 videos, it successfully played the highest bitrate I could find – 250Mbps H.264 4K video and 400Mbps H.265 4K 10bit video. I am honestly impressed, the hardware video decoding is really impressive, as the supported bitrate is over 10 times more than what you can possibly need in real life.
The only video I could find that wasn't played lag-free was a 4K video encoded in AV1 codec. While FullHD AV1 was without problems, 4K AV1 was visibly laggy. As this codec is still quite new and not at all common in digital signage media, I don't consider this a problem. Even support for FullHD AV1 decoding is much more than what you usually get in a 60 EUR device.
While the video decoding was a positive surprise, support for a 4K output was a little bit of a negative surprise. Similar to the most Android devices claiming 4K support, it has only Full HD internal framebuffer and 4K support is valid only for video playback, meaning you can play 4K videos, the TV will display it as 4K, but images and graphics will be processed in lower resolution. Moreover, the 4K output is available only on devices that support HDCP 2.2. So if you have a special display with HDMI 2.0 4K input, but without HDCP 2.2, the stick will lock its output in Full HD. I understand why Amazon would lock it for their video content (HDCP is used for protecting the content from being copied), but I don't know why they locked it for other apps as well.
Little bit surprising was the fact that it is not possible to directly control the audio volume output of the stick, it always plays on the maximum volume. Volume keys on the remote control are used for controlling your TV's volume via HDMI-CEC, not stick's volume. That means that if you have a screen without HDMI-CEC support, you will have to manage the volume directly on that screen. Changing the volume using the slider on the home page of Slideshow's web interface doesn't work at all on Fire TV Stick.
Although the raw performance of the CPU in the stick is much lower than what you get in high-end smartphones, it still has enough performance for all computing-intensive tasks, such as transitions between images and scrolling RSS news.
Fire TV Stick 4K Max is marketed as with 8 GB internal storage. Part of the storage is reserved for the system, the partition for user files has 5 GB, from which there was about 4 GB free after first startup of Slideshow (the rest was occupied by other apps and their data). That might be enough for many marketing slides and clips, but don't expect to be able to upload high-quality hours-long video, it won't fit there. As there are no easy ways to expand the internal storage, it is a pity that they didn't put larger storage in the device.
As for the automatic start of Slideshow after the stick boots, you can set it up by checking "Start at system boot" in Basic settings in the on-screen menu. Slideshow will claim that a system permission is needed, but this permission is not present in Amazon's version of Android, so in reality, it is not needed. With the "Start at system boot" option turned on, Slideshow will automatically start a few seconds after the device loads. Settings Slideshow as Launcher app is not possible, Amazon doesn't allow changing the Launcher app on its devices at all.
As the stick is not rooted, some of Slideshow's extra features, such as remote app update or remote reboot, can't be used at all.
Overall, digital signage playback on Amazon Fire TV Stick 4K Max using Slideshow app was smooth, the device was stable over multi-day testing. For 40-60 EUR (depending on the availability, country and shipping) you get a smart device which can be easily used with your TV or display.
Although there are a few negative points, in general I can recommend Amazon Fire TV Stick 4K Max as a stable long term Digital Signage player for Slideshow app. It can be brought directly from Amazon.